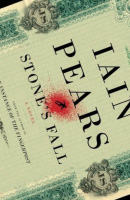 Stone's Fall
by Iain Pears
The real life murder of an Oxford professor in 1663 and its surrounding circumstances doesn't sound like one of those plots that people immediately think of as the basis for a great novel.
But Iain Pears's Instance at the Fingerpost was a classic that hooked people from all walks of life. The same events, the same murder, as seen through the eyes of four different people, with details of the era making you wonder how people lived back then take the reader on a journey he will never forget. His readers then bought and read his other books, from his art theft detective stories based in Rome, to his Dream of Scipio which spans 2 millennia in the south of France. His writing genuinely brings forth the feel of whatever location he describes in his stories.

So when Stone's Fall hit the stores, I expected a classic Pears work of detail and vivid descriptions and exemplary character development. No disappointment there, of course. It was the story that struck me. Pears uncannily hits the mark by showing that people are people in any age, in any circumstances. We tend to think that scheming, ambition, jealousy, and corporate brilliance are late 20th Century sociological trends. Pears shows otherwise. A sweeping story that begins with a funeral in 1953 set in Paris then goes back to a suicide in 1909 London and an investigation that spans Italy, Germany, France and England through the Franco-Prussian War to the buildup for World War One. The book is not about war, but about people who benefit from them.
Most interestingly, Stone's Fall is about unexpected and unintentional consequences. It raises moral questions about culpability when circumstances are unknown and when they are known. Pears reminds us to ask the question "why would I expect things to be different today than they ever were?" But more than anything he tells a brilliant tale that eclipses all his previous works. That says something.