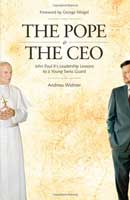 The Pope and the CEO
by Andreas Widmer
Former Swiss Guard and now internationally known CEO, Andreas Widmer discusses lessons he learned directly from Pope John Paul II while serving in Pope's personal guard.

These lessons directly applied to Widmer's future successes in business in Europe, North America and Asia. I like this book so far because it is not a list of "foolproof steps" or "irrefutable truths" about business. These are lessons about life that made Widmer a better businessman.